Photos copyright their respectful owners.
The claim Cracker Barrel Old Country Store sports a logo referencing slavery sparked debate on social media.
Cracker Barrel is a Tennessee-based comfort food restaurant and store chain with a Southern country theme located near Interstate Highway exits in the Southeastern and Midwestern United States.
In spite of its wholesome image and offering of mouth-watering Southern cuisine, the restaurant has long been accused of racism. Its history of firing LGBTQ employees did not help forestall its controversial reputation.
Recently, the claim Cracker Barrel's signage featured a whip and the store's namesake referred to barrels of whips for sale in stores went viral.
Twitter user @DomoDaDonn asked "Did y'all know this?" and posted a screenshot of a meme featuring the restaurant chain's sign.
The caption for the meme read:
"Cracker was a slang term for whip. That's why blacks called whites crackers, from the crack of the whip."
"A cracker barrel is a barrel that held the whips for sale at the country store. You see the whip going from the R to the K? Racism in your face!!"
The logo shows a White man sitting next to a barrel, and whoever created the post suggested the line connecting the "K" in "Cracker" to the "R" in "Barrel" was a whip.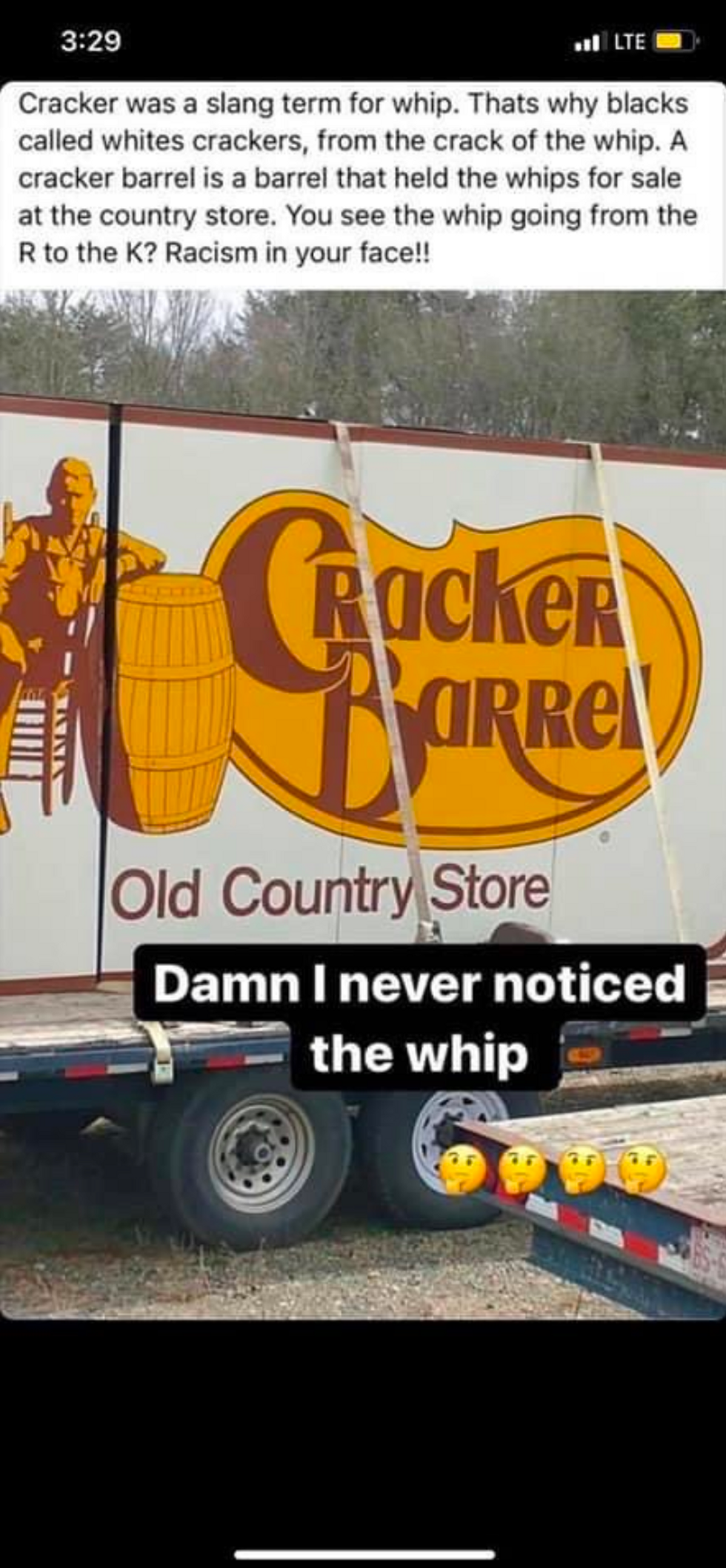 @DomoDaDonn/Twitter
Immediate reactions on Twitter seemed to confirm people's suspicions about the restaurant chain.
However the fact-checking site Snopes debunked the theory as false.
Although the slang term "cracker" was entered into parlance referring to poor White people, the website did clarify that was the only grain of truth to the meme.
"The pejorative term 'cracker' can be traced back in part to a shortening of the term 'whip-cracker.' However, 'cracker barrel' does not refer to a barrel of whips."

They added cracker barrels were literally barrels of crackers commonly found in stores before the advent of machine packaging during the industrial revolution.
Lexico described the origins of cracker barrels.
"Late 19th century with reference to the barrels of soda crackers once found in country stores, around which informal discussions would take place between customers."
And while the claim was debunked, people still admitted to having a hard time letting go of their perception of the chain.
In 2004, the U.S. Justice Department found evidence Cracker Barrel had been segregating Black customers in seating sections, seating and serving White customers before seating and serving Black customers and allowing White servers to deny serving Black customers.
Black customer Chandra Harmon—from Smyrna, Georgia—arrived at a Cracker Barrel in Chattanooga, Tennessee and was told by a server the restaurant was closing at 9:48 p.m.
At 10 p.m, she saw four White customers get seated ahead of her and served.
Harmon said of the manager who denied her service:
"We had hungry children and he still refused to serve us."
Attorney Grant Morris said:
"There are perhaps thousands more African-Americans who have been denied service, treated rudely by servers and hosts, and subjected to racial slurs at Cracker Barrel restaurants."
"This is the tip of the iceberg."
In addition to allegations of racism, Cracker Barrel also had a deplorable policy of firing gay employees for years.
The company used to issue intra-company memos stating employees who did not display "normal heterosexual values" would be dismissed in their stores.
In 1993, a proposal adding sexual orientation to Cracker Barrel's non-discrimination policy was rejected—with 77 percent against and only 14 percent in support, with 9 percent abstaining.
It was not until 2002 that 58 percent of company shareholders voted in favor of the proposal.
/gmi, ");strz = strz.replace(/?w(?:[^"'>]|"[^"]*"|'[^']*')*>/gmi, ");tagz.innerHTML = strz;strz = tagz.textContent.replace(/u'/gi,"").replace(/'/gi,"");tagz.textContent="";}return strz.replace('[',").replace(']',").replace('~popular_source-pageview',").split(',').map(s => s.trim());}
let script1 = document.createElement('script');
script1.src = "https://recirculation.spot.im/spot/sp_AYcpkZr5";
script1.async = true;
let script2 = document.createElement('script');
script2.src = "https://launcher.spot.im/spot/sp_AYcpkZr5";
script2.id = "spotim"
script2.setAttribute("data-spotim-module", "spotim-launcher");
script2.setAttribute("data-post-id", "misleading-claim-cracker-barrel-racism");
script2.setAttribute("data-article-tags",decodeTags("[u'debate', u'logo', u'restaurant', u'sign', u'slavery', u'whips', u'cracker barrel', u'racism']"));
script2.setAttribute("data-post-url", "https://www.comicsands.com/misleading-claim-cracker-barrel-racism-2650428996.html");
script2.async = true;
console.log('TAGS DECODED BELOW');
console.log(decodeTags("[u'debate', u'logo', u'restaurant', u'sign', u'slavery', u'whips', u'cracker barrel', u'racism']"));
const container = document.querySelector('[data-spotim-module="recirculation"]');
container.parentElement.insertBefore(script1, container);
container.parentElement.insertBefore(script2, container);
});



Source link
Category: Restaurant News