I first met Chef Rebecca Barron in 2018, the year before she became a semi-finalist for the James Beard Award for Best Chef in the Southeast. At that time, she was executive chef at St. John's, a beautifully appointed, chic, fine-dining restaurant located in the heart of Chattanooga, Tennessee in the former St. John's Hotel flatiron building. The building was originally constructed in the early 1900s, then brilliantly renovated in the 1990s by a local preservationist and architect.
The first time my husband and I went to St. John's, the place itself swept me off my feet. The mile-high, cathedral ceiling, the elegant, gleaming wood bar and sweeping staircase arching up to second floor dining all set the stage for what was to be the meal that I would go on to judge all other restaurant meals against for years.
Sensually perfect may sound contrived or overly ebullient, but believe me — this is no exaggeration. From the visual to the flavors and aromas, I had never seen such exquisite, delicate art plated and presented as food. And to then taste amazing on top of that? I couldn't see how it was possible. I had not even ordered something specific from the menu; I had asked our waiter if I could have only vegetables as my entree. What arrived was stunning and sublimely delicious.
On our third visit to St. John's, I had to meet the chef.
At the risk of sounding sexist, I shared my prediction with my husband that I believed the chef had to be a woman, that only a woman could create the specific kind of beauty and layered, nuanced, harmonious flavors of this magical food for which I had become so obsessed. I was correct — and when she graciously came out to our table and introduced herself, I was starstruck. She was charismatic and charming; I babbled on like a teenager meeting an onscreen idol.
She put me at ease with her laid-back warmth and easy way of talking, relieving me somewhat of my adolescent giddiness and then something wonderful happened: As fortune would have it, she was signed up and registered for a three-day chef's competition in Orange Beach, Alabama, which just happens to be across a bay and around a bend from our house. Before she left our table that evening, phone numbers were exchanged and it was decided that she and her assistant would cancel their rental accommodations and come stay with us!
Since that fateful time, Rebecca's life has taken many unexpected turns. She is currently living in Nashville with her gifted hand in two restaurants, both Daniel Lindley's restaurants: 5th and Taylor in Nashville and Alleia in Chattanooga, with a third scheduled to open in Chattanooga next year. She became a mom in 2019; in fact, she was on maternity leave when she found out she had been nominated for the James Beard Award.
What a fortuitous day it was when I made that reservation for two at St. John's back in 2018. I love that I now call that superstar chef, who blew me away with her incredible smile and culinary talent, my friend; and I cannot wait to talk with her and share with you how she came to be the chef she is today, who inspired her and how she continues to create such magical food while single-handedly raising her daughter, Ruby.
The following interview has been lightly edited for clarity and length.
Did you always want to be a chef and cook professionally? Were you inspired by any family members growing up?
Oh my God, YES! I am the eldest of five kids and was always shopping, cooking and planning meals. I grew up watching Julia Child, Jacques Pépin and Ming Tsai, then later all of Anthony Bourdain's shows.
I was inspired by my mom who is German and cooked from  family recipes handed down from her mother and grandmother. I am now the fourth generation (at least) using these recipes; my mom's buttermilk pancakes and German potato salad are two of my favorites. My father is Jewish and his grandmother, my great grandma Eleanor, made a great matzo ball soup that is still a favorite of mine.
I know you are from Milwaukee. Did growing up there influence your cooking style or taste preferences?
I've lived in the South for over twenty-five years, so I claim it. Don't hate on me, Northerners! I still love it up there, but Tennessee is home. Are grits better than cheese curds? Possibly.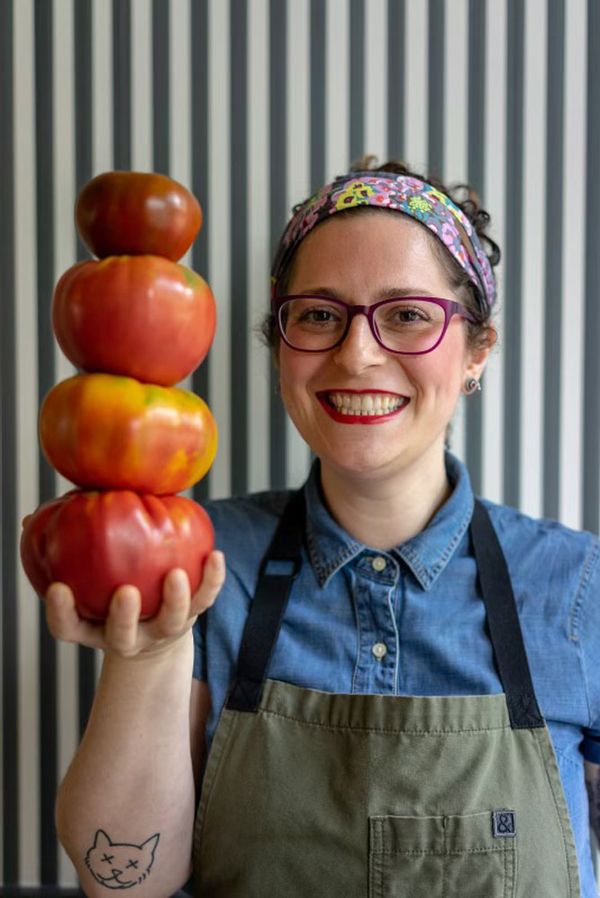 Chef Rebecca Barron (Courtesy of Chef Rebecca Barron)
Tell me about your training, education and/or mentorships. How did you get started in the business?
I have never been to school a day in my life and I am thankful for my mom who taught me how to think for myself. She was a SAHM (stay-at-home mom) who homeschooled me.
I am forever grateful to Chef Mike [Chef Michael McCullen], who was executive chef at The Walden Club in Chattanooga who graduated from the Culinary Institute of America and gave eighteen year-old me a chance when I had no idea what I was doing. In fact, he let me f**k up his knives! I'm so sorry, Chef! (I can't believe that's been twenty years ago.)
My next big influence was Hiroshi who taught me so much of what it means to be a chef and introduced me to so many amazing Japanese ingredients. I only knew him as Hiroshi and no one seems to know where he ended up, like he was a figment of my imagination.
Chef Derek Hensen, executive chef and owner of Bellagio and then later Table 2, both in Chattanooga, taught me how to eat great food. His tasting menus were out of this world. He gave me invaluable critiques of my own food. He is so knowledgable, just really gets it and is never wrong about flavor.
Chef Daniel Lindley taught me about the whole business. He was my boss at St. John's until I took over in 2014 and now I am working for him again as his Culinary Director for multiple locations. He, himself, has been nominated for the James Beard Award multiple times and he has an amazing eye for detail. He has pushed me more than anyone else and I would not be where I am today without him.
Tell me more about being Culinary Director. What does that entail?
I oversee the chefs, help create dishes and refine existing dishes and manage food cost and inventory. I am also part of a support system for the chefs, helping them manage their kitchens efficiently and stepping in when someone is out sick or on vacation. I have also been known to tape a leaking pipe in the dish pit or fix an appliance, so there's that.
What I don't do is schedule kitchen staff or open and close the restaurant; therefore, I am able to focus on the big picture and have space to handle emergencies and things that come up in the moment.
I am a jack of all trades in this position and it's super fun, albeit kind of crazy sometimes. But such is restaurant life! Most importantly, the hours are flexible, so I am able to be home with my daughter, Ruby, most evenings and be available for her when unexpected things arise with her.
---
Want more great food writing and recipes? Subscribe to Salon Food's newsletter, The Bite.
---
There was a time when it seemed all the great chefs were men as men dominated in the profession. Has that changed some since you've been in the business?
It's true that when I was younger, there weren't a lot of female chefs, but that has changed some. I love Dominique Crenn, Mashama Bailey and Katie Button and it has been so cool to watch their careers. When I was nominated for the James Beard Award in 2019, it was incredible to see my name alongside Mashama Bailey who won the award that year. Talented women are making their names known these days, that's for sure . . . and I'm happy to see that they are receiving recognition.
Heirloom Tomato and Blackberry Salad
Ingredients
For the red wine vinaigrette:
½ cup red wine vinegar
1 teaspoon Dijon mustard
1 1/2  to 2 cups canola oil
Salt and white pepper to taste
Diced cucumber, optional
Minced shallots, optional 
For the salad: 
The best heirloom tomatoes you can find, sliced in different shapes (We use Hancock family farms for the tomatoes and blackberries!)
Fresh ripe blackberries
Fresh basil "tips"
Fresh ciliegine (cherry-size mozzarella balls)
Red wine vinaigrette (see recipe) 
Borage flowers (they taste like cucumbers!)
Maldon sea salt
Directions
Make red wine vinaigrette: Place vinegar and mustard in blender. Turn blender on medium low and slowly emulsify the oil into the blender. Season with salt and white pepper to taste. (should yield about 2.5 cups; you will not use it all in this recipe) 

Build the salad like a beautiful picture, using the tomatoes, blackberries and mozzarella.

Season lightly with Maldon salt and top with some vinaigrette.

Arrange basil tips and borage flowers and serve.
Read more
about this topic
Category: Restaurant News